Interview with Freelance Designer Kat Summers
Kat is a Freelance Graphic Designer from Glasgow, Scotland, currently based in San Francisco.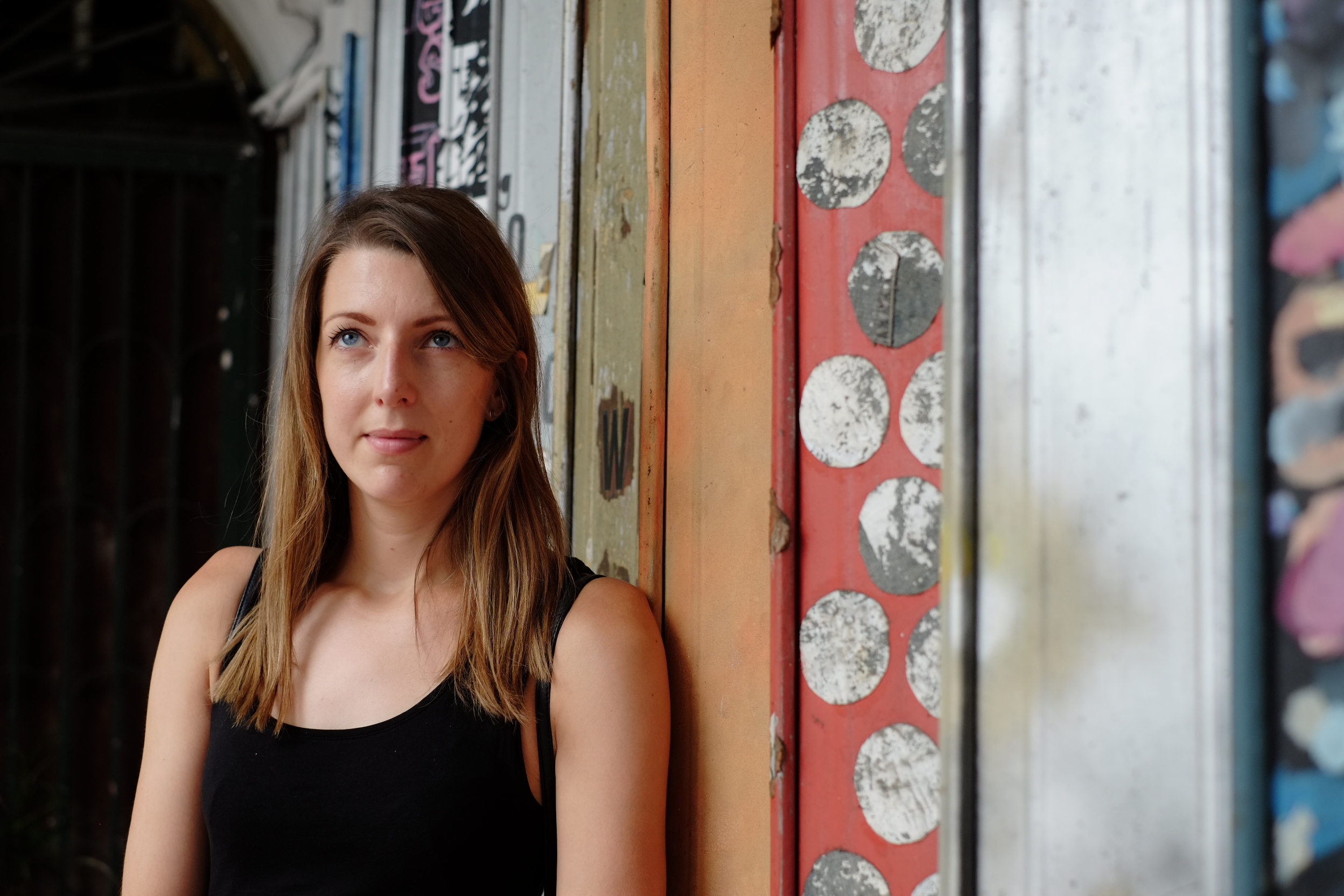 What led you into remote work?
After graduating in Graphic Design from Duncan of Jordanstone College of Art & Design, I began my career working for a small design and advertising agency in Glasgow. I learnt so much from the experienced designers who worked there, and stayed for 3 years. I knew it was time to move on when I felt like there wasn't space for me to grow further. I was invited to interview for an agency in Edinburgh, and took this opportunity to try something new, and be part of a larger team. It was a fun place to work, and I was lucky to have such talented colleagues, many of whom became friends. It was here I met my soon to be 'work wife' Kirsten Murray. When the day-to-day work in the agency became repetitive and creatively restrictive, we began working on side projects together in the evenings and weekends to explore our own ideas. We had a lot of fun creating our first project, Aye Magazine. Issue one was inspired by the students we mentored at Edinburgh college, who spoke of fear of failure. We set out to show them that behind every good designer, is a story of failure. We interviewed fellow designers and illustrators, art directed a photoshoot and even spray-painted macaroni to create a typographic piece.
As we enjoyed working together and both had similar frustrations with our current jobs, it felt like time for a change. Kirsten had planned to travel, her goal was to find a way to design her way around the world. She asked if I'd like to join her for the start of her adventure, and having caught the travel bug myself, I jumped at the chance.
We quit our jobs, packed up our lives in Edinburgh and were on a plane to Sri lanka on New Year's Eve 2017. We travelled across Asia, and freelance work started to come our way, the first from friends and ex-colleagues. We worked in many different places, from coming up with ideas on trains, storyboarding in an airbnb in Kuala Lumpur, to sketching in hostels around Taiwan. We tried our hands at ancient crafts like chinese calligraphy and collage-making and were surrounded by new inspiration every day. We experienced many different cultures, the hand painted typography, unusual architecture, and vibrant textiles filled our brains with ideas. It was unpredictable, exciting and we'd never felt more creative.
Since then, being remote designers has taken us to many different places. I spent some time back in Glasgow, splitting my time between freelancing for design agencies, and working on client projects. From a coffee roaster rebrand, to publication design for charities, the variety of work and collaborative nature of it has been such a refreshing change from what I knew in my previous job. I'm now very lucky to be based in San Francisco, so my work life has changed again.
What does a typical day look like?
I'm a morning person, so I try to do the most intensive work then, when I'm at my most productive. This is when I focus on progressing any design work that's already underway. I'm much more reflective in the afternoon, so this is when I have most of my ideas for new projects. I love to-do lists, so every day I start by listing what I need to get done. I often run at lunchtime, which usually makes me more productive in the afternoon. It's definitely a learning process to structure your own day, for me I find loosely working from 9-5 suits me best. I adjust my hours when I need to accommodate the UK working day, so that I can take client calls or respond to emails before the end of their day. It can also be an advantage for jobs needing a quick turnaround, since I'm working when the client is asleep, they can have an updated file waiting in their inbox in the morning.
What's your workstation setup?
When I lived in Glasgow I had a desk in the living room of my flat, but often this meant I worked late into the evening as there was the temptation to bring my laptop to the sofa in the evenings. To combat this I found a co-work space, The Whisky Bond, where I worked for a few months. It was great for meeting new people and keeping stricter working hours.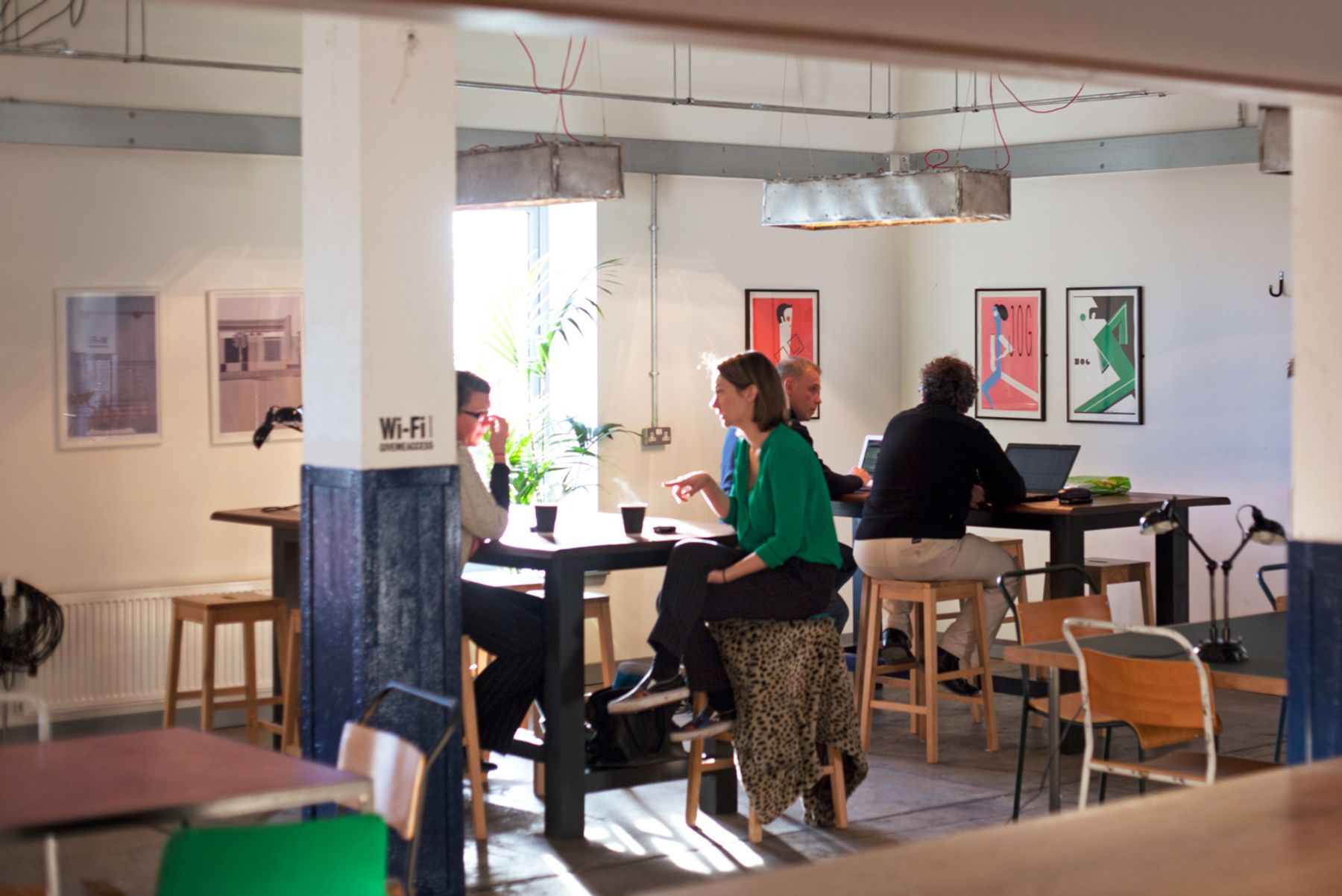 Now, in San Francisco, the apartment building we live in has some communal spaces that I can work in when I feel like getting out of the apartment. If the weather's nice I sometimes work outside, or from a cafe, especially at the concept stages of a project, where I can sketch out ideas. My partner works for a Silicon Valley tech company, and they've been great – allowing me to work out of their spacious Downtown office in the bustling financial district. This has provided me with fresh insights from people who are working at the top of their field and keeps me motivated with new ideas and ways of working.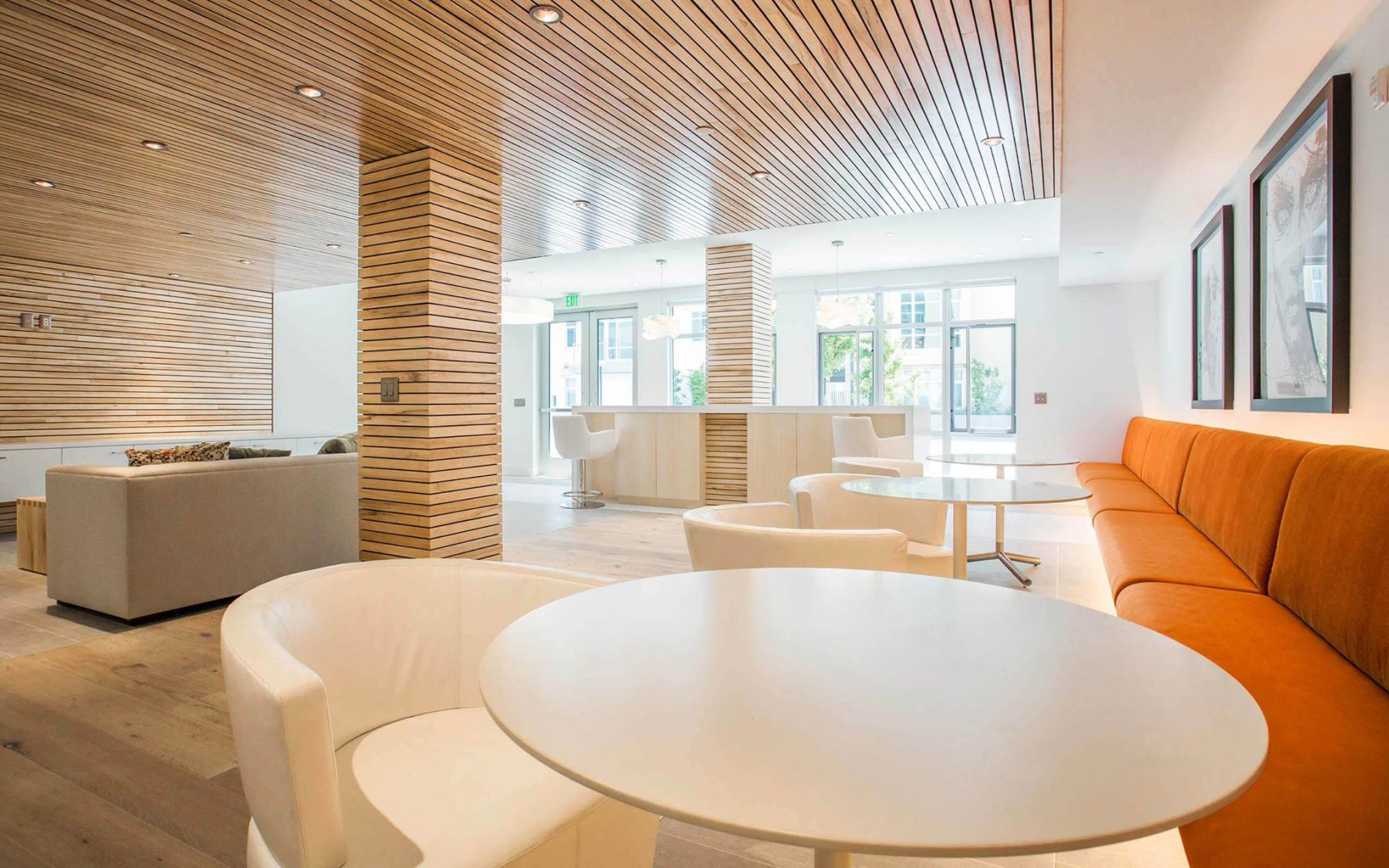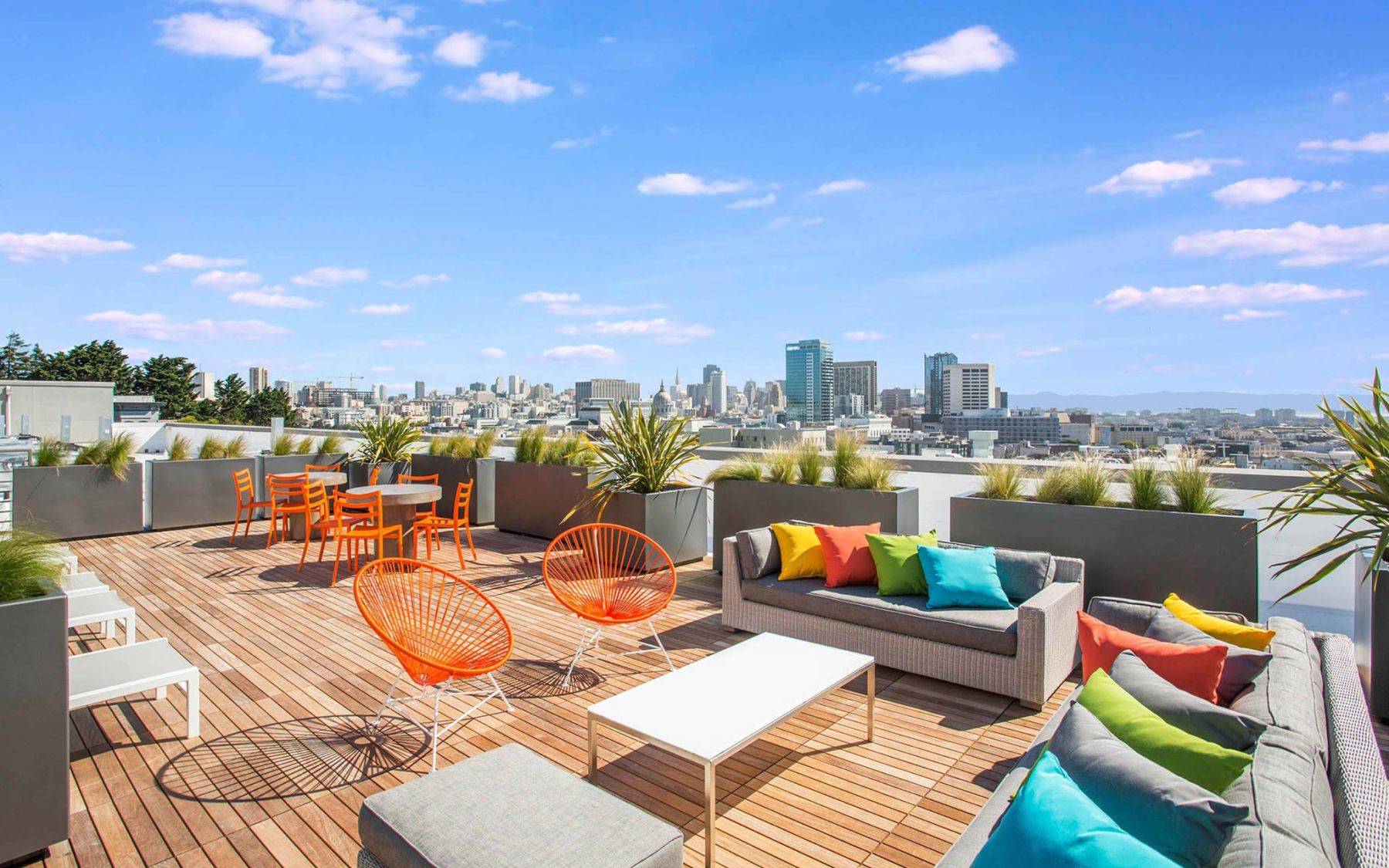 What are you working on?
We've just finished Issue 2 of Aye Magazine so we'll be posting that out soon, and also sharing the digital edition via Readymag. This issue is 'The Feminist issue', where we we ask, in an industry full of problem-solvers, why haven't we solved the problem of gender inequality? And what are we going to do about it?
I recently collaborated with Kirsten and Stewart Ainslie on the design of The Arts & Crafts Women exhibition for Historic Environment Scotland. The exhibition highlighted the work of five artists who pioneered the arts and crafts style in Scotland: Margaret MacDonald, Frances MacDonald MacNair, Jessie Newbery, Ann Macbeth, and Phoebe Anna Traquair. Taking inspiration from the artists' paintings and embroidery designs, we created a motif for each artist and combined them to form a series of patterns which we used as a backdrop for the exhibition display and for promotional postcards.The project had many different parts to it, which I loved, and creating work for a physical place that championed women in art and design was fantastic.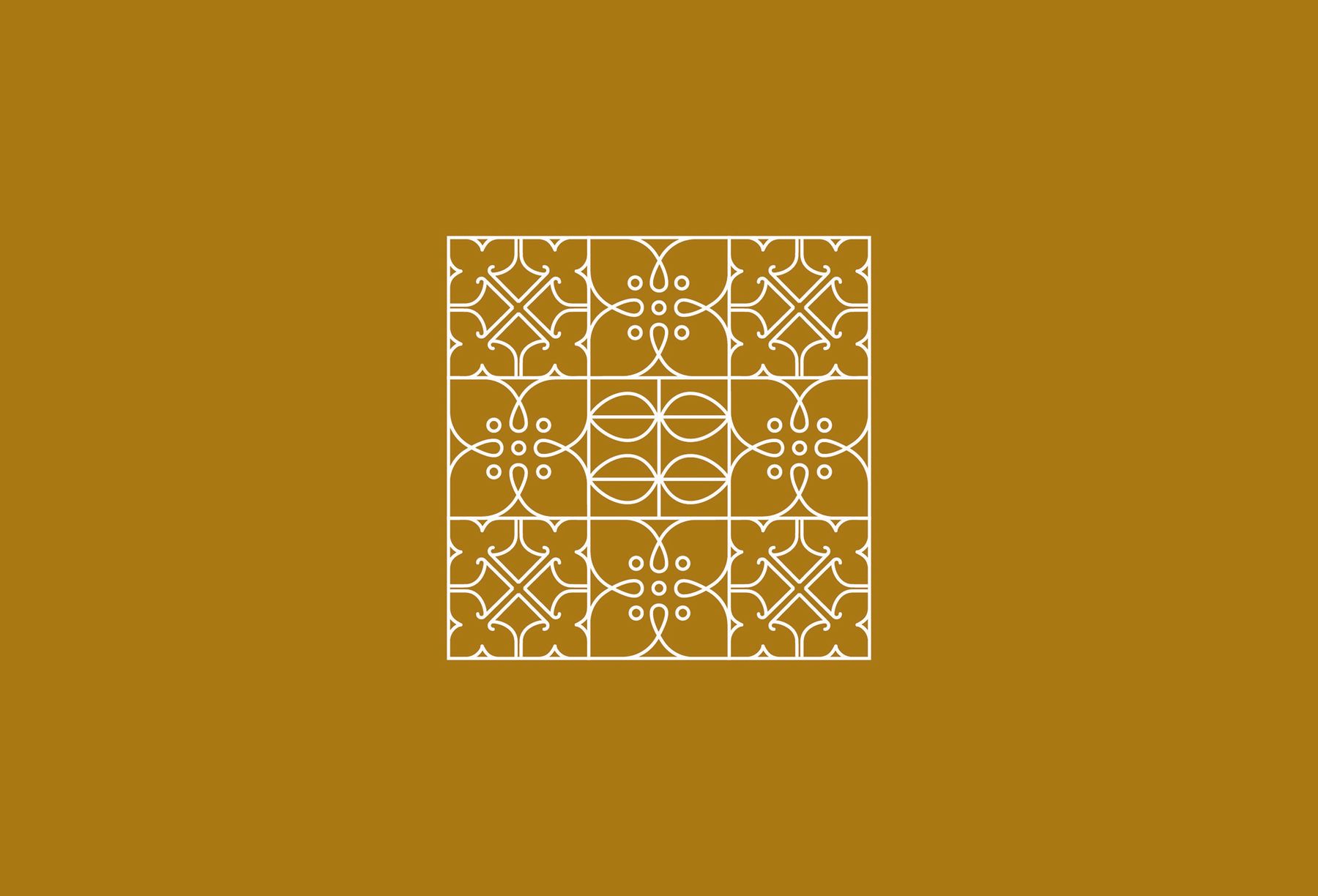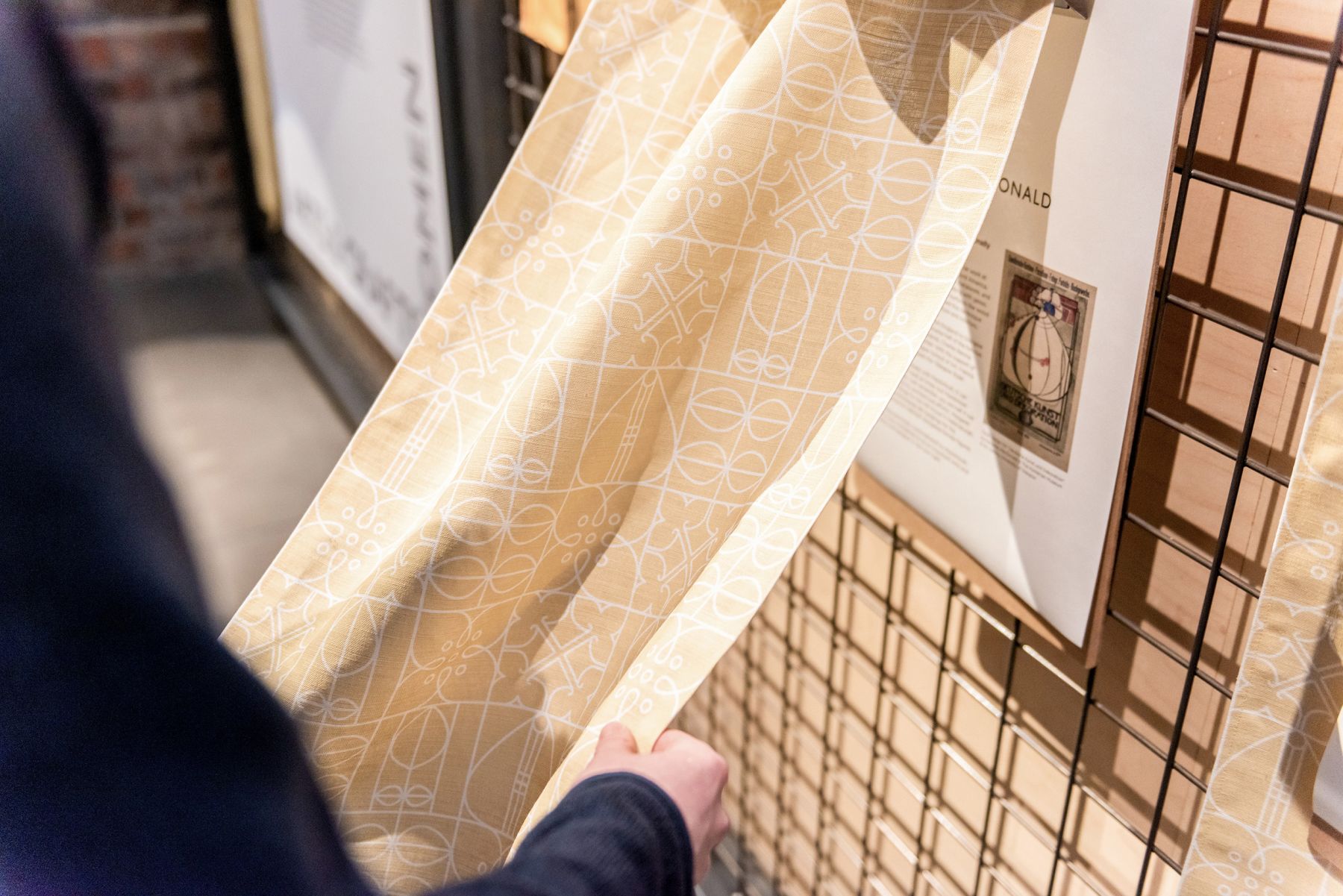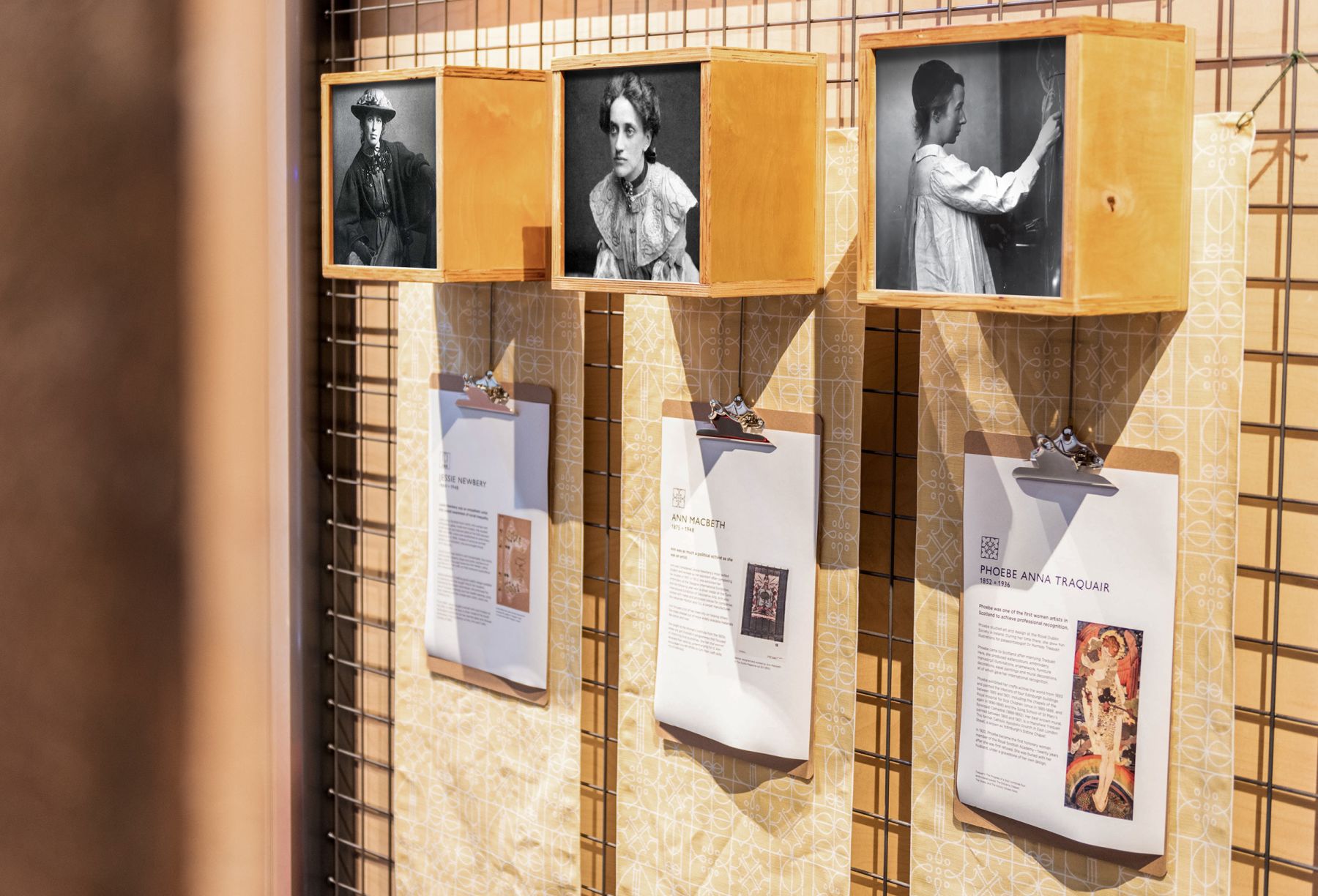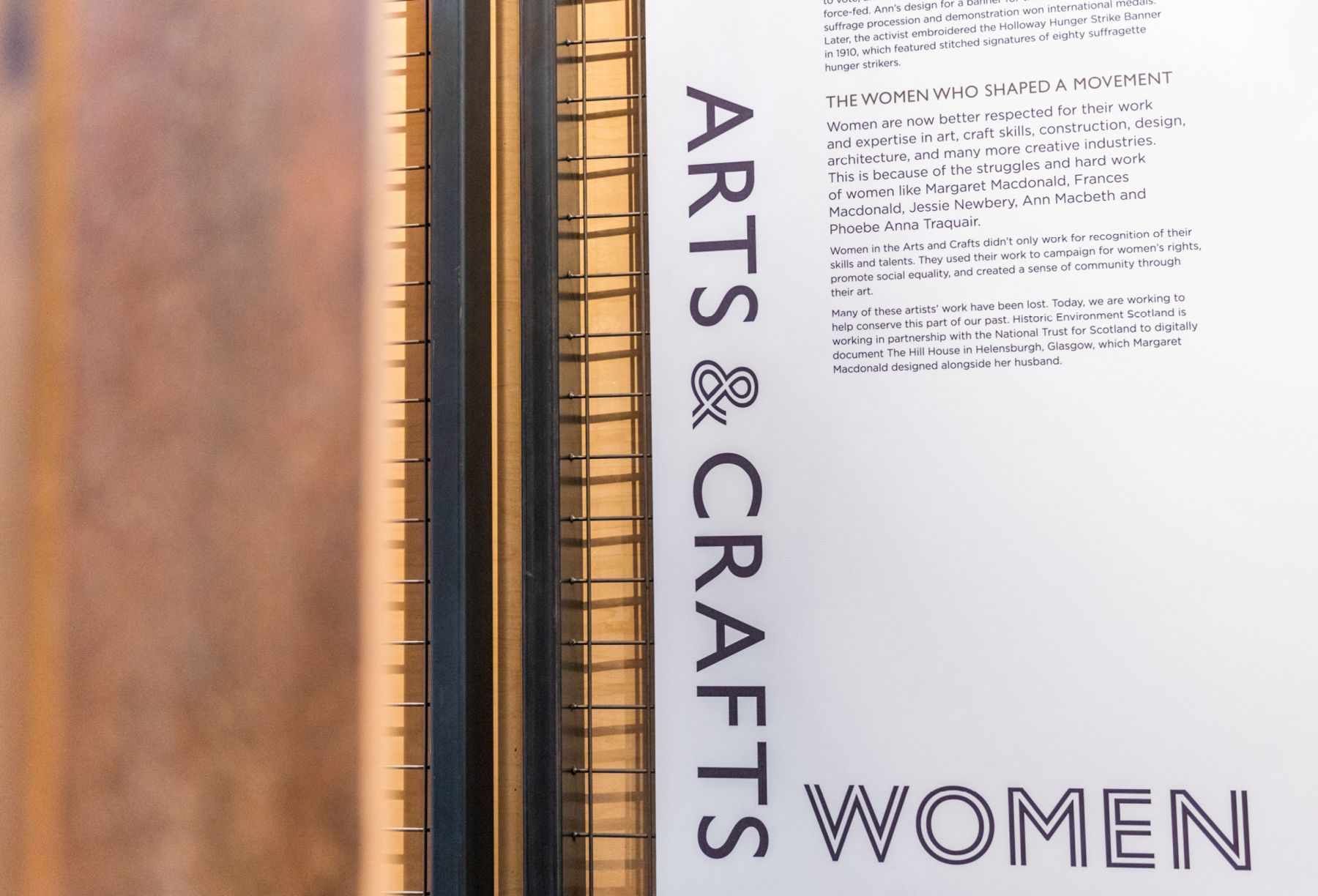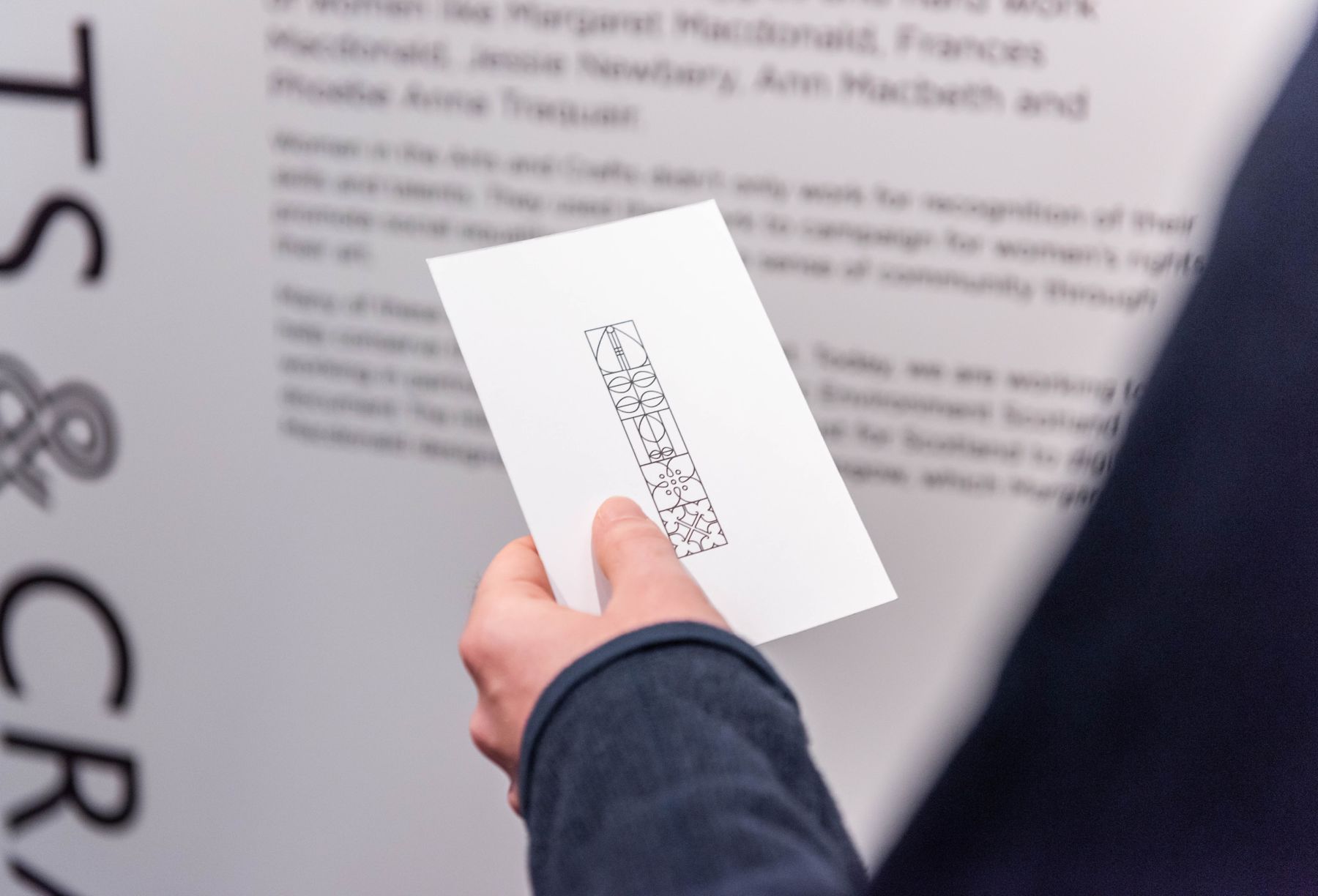 What's your design process?
My first point of call is always to dissect the creative brief. I love the research part of a project - one of the really fun things about being a graphic designer is that you get to learn about many different subjects and businesses. For a brand identity project, I prefer to begin with a brand workshop, if the budget allows, as this is a great way of getting to know the client and their values. This discovery part of the job is often where the ideas and concepts begin to form, and from here I usually start by sketching ideas in my notebook. I like to share work early with clients, so I often present no more than 2-3 visual routes, before developing further. Once the concept and visual route is decided, I refine the identity and from there it's about building out the brand through typefaces, colour palette selection, photography or illustration styles and translating the brand across different mediums.
What design work has recently inspired you?
Manual, who are based here in SF, have recently created some stunning brand work for The San Francisco Symphony. From the carefully considered typeface which reflects the rhythm of music, to the memorable copy 'Listen and you'll see', to the beautiful silhouette photography, it really stood out to me. I also got to see the work on the streets here, which brought it all to life.
There is a great craft culture in California, and one of my favourite local artists is Julie Canright. She creates block printed pieces by hand, her work is often geometric and monochrome, a favourite aesthetic of mine. I really admire craftspeople, and as much as I love being a designer, I think it would be amazing to be a maker, to develop your own style and create work by hand, there is something so human about it.
What are the biggest advantages of working remotely?
The freedom to 'design my life' is the biggest plus for me, to be able to plan my days to make them work best for me. Being able to work my day around how I feel, and go to appointments and exercise at any time are hugely beneficial. The creative freedom in terms of being able to choose the work I want to do, based on what matters to me, is so important. I have a much greater sense of job satisfaction now that I'm working with charities, or helping a new business owner to bring their venture to life visually.
What are the biggest challenges of working remotely?
Building a client base without physically being there can be a challenge, although video calls are great, nothing beats face to face meetings. The downsides are the solitude, as depending on the type of work, it can be lonely and isolating at times. When I worked in an agency, I'd want to go home and relax after a busy day bouncing ideas around and working with lots of people, now it's the opposite, so I make sure I get out and socialise in the evenings.
Any advice for designers looking to go remote?
Work life balance is so important. It can be hard to separate home life from work, especially if you have a home office. In the past I've found myself working 12-14 hour days, which is just not healthy, or conducive to good creative work. I think remote workers can have a sense of guilt if they're not on the tools 9-5, but if you're lucky enough to be in this position, use it to your advantage – take breaks when you need them, and get outside every day. I love the flexibility of remote working, but it also requires discipline and I find a routine of sorts can help with that. A designer friend told me he has a 'fake commute'. Before he starts work every day he goes for a walk around the block to clear his mind, so that once he's back at his desk, he's ready to work.
It's so important to have a strong network, and nurture it. There are some wonderful creative communities which have helped me a lot. Since moving to SF I've been going to Creative Mornings, which are free, monthly talks, held over breakfast. I first went along to them in Edinburgh, so it's been great to get involved here, feel inspired, and meet like-minded people. I'm also a big fan of Ladies, Wine & Design, an initiative with chapters in 280 cities worldwide. It was started by Jessica Walsh to challenge sexism, champion female creativity and address the gender imbalance at senior levels in the creative industries. The events include mentorship circles, portfolio reviews, talks and creative meetups. They've been so important for my career development, from increasing my confidence to meeting inspirational women across the world.
You can follow Kat on Twitter, Linkedin, The Tits Instagram and find out more on her personal website.
Get new remote jobs in your inbox for free
Latest jobs, interviews, articles and resources for Remote Designers sent to your inbox weekly.
We care about the protection of your data. Read our Privacy Policy.